While the Custer, South Dakota area had much to offer, it was time to start making our way to Winkler, Manitoba Canada, for the Leisure Travel Van Annual Rally. We still had many miles, two states, and several stops, between our starting point in Custer and the rally in Winkler. Our first stop was in the town of Spearfish, South Dakota. Spearfish is know for its Canyon, scenic drive, Bridal Veil Falls, hiking areas, and the nearby cowboy town of Deadwood. We spent a couple of days in the area.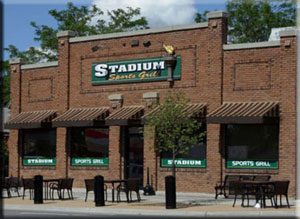 We were impressed by the helpfulness of our Spearfish KOA campground owners and work they had put into their facility a pleasure to visit. Our arrival in Spearfish on a Thursday was a little later than we planned. We were looking for a restaurant that the campground owner recommended when we happened upon the Stadium Sports Grill in Spearfish. We decided to go in for a nice early dinner. While there, the manager offered to have a table for us with the Clemson – Kent State game on if we came in at 10:00am (mountain time) on Saturday morning. To us… this was a God thing!
Later that evening we drove to Sturgis. The big bike week had finished and Sturgis was hosting the Annual Mustang (Ford) Rally. There were some beautiful Mustangs on display, great music, and a special edition Indian Classic motorcycle that I had my eye on. Anna said I could have my eye on it, just not my butt. It was a fun evening, but I hated leaving that Indian Classic there for someone else.
We had a red alert code 3 emergency on Friday morning when our coffee maker died. Nothing I tried gave us any hope of reviving it, so we went out and had a great breakfast at the Millstone Family Restaurant. After fueling up our engines, and stopping to fuel up the CRV, it was off to Spearfish Canyon. Neither of us thought the canyon was a pretty as everyone said. We finally determined that early fall is the best time for scenery. Bridal Veil Falls could be viewed from the highway. It was a whispy spindly sort of fall. We did take two very short hikes to visit Spearfish Falls and Roughlock Falls. Spearfish Falls was a small, yet pretty, fall located behind the Latchstring Restaurant in the Canyon. Many points of interest in this area are poorly marked and we drove by several before we knew it. We were standing next to the restaurant and asked a worker (who said she was a local) where the falls were located. She thought the falls had to be around there somewhere, but she wasn't sure. We found out a few minutes later that we were almost standing on top of the falls, and the information sign for the falls was 50 feet away! You just have to smile at times like this! We did have to hike down a path into a ravine in order to see and hear the falls. A couple had just finished their wedding ceremony there as we walked up (down).
About a mile down a gravel road was a parking area that led to a well maintained trail to the Roughlock Falls. Roughlock was a very pretty short fall with multiple streams and cascades. There was a vegetation restoration project around the falls, so we had to stay on an elevated wooden walk to view the falls. I had a problem with one of my camera filters, so had to change to another. As I attempted to install the new filter on my camera, it fell out of my hand and off the platform ($200 Gulp!). I knew it was near the water's edge, but I couldn't see it and it would have been difficult for an old guy like me to retrieve it. Prior to dropping the filter I had been spending a little time trying to help a man with information about cameras. When my filter dropped, his daughter said she would retrieve the dropped filter. I tried to stop her, but she quickly climbed over and down from the platform into the weeds and water to retrieve my filter. She quickly located it (undamaged) and climbed back up to safety. I couldn't believe how gracious she was. I must be living right, and thanks to her – I got my shots of the falls.
We drove to Historic Deadwood, South Dakota later that afternoon. We walked the downtown area (kind of touristy), had a milkshake at Mustang Sally's, and then went out on the street for the 4:00pm shootout. All in all, a pretty good way to spend the afternoon.
We left the Spearfish KOA early on Saturday morning and headed back to the Stadium Sports Grill. Not too many people rush into town here at 10:00am on a Saturday to watch football so we were able to park the motorhome and care right next to the restaurant without a problem. Even though the crowd picked up after a while, Anna and I pretty much had the Sports Grill to ourselves. There were some patrons in the grill, so I did have to subdue Anna every once in awhile. The manager had a the largest TV in the grill on one wall set to the Clemson game, a table right in front of it, and she turned the volume up… just for us. Unbelievable! Several people did stop by to ask us about the orange clothing and the Tiger paws. I guarantee they know about Clemson by the time we left.
So much fun for now… it's hit the road time. Our next destination was north to Dickinson, North Dakota. We drove through an area in North Dakota about 30 minutes from our destination that had a gazillion bees. When we stopped to clean off the windshield, bees were coming out of the engine compartment and anywhere else they smashed into and didn't die. It was great fun trying to work around them while cleaning the front of the LTV. We had a two-night stopover in Dickinson to catch up on some maintenance items and just crash. I also wanted to make sure we had a place with good Internet service so I could get started on this blog. We grilled our lunch at our campground and had some great yogurt in town. We soon moved on, heading east from Dickinson to Cassleton, North Dakota. Who knew that a Day's Inn would have not only a campground, but a pretty good little restaurant? We met a nice couple from California while there. They had the cutest little Australian Shepard puppy "Tucker" that you have ever seen!
We headed to our Rally destination in Winkler, Manitoba Canada the next day. We got off to an early start because we needed to get through customs, find the campground, and get ready for our service appointment the following morning.
Click here to view additional photos related to this blog. All photos are best viewed on a computer. You can view the full size photos by clicking on them in the Gallery, and then using the arrow key on your computer to scroll through the remaining pictures. You can also click the links at the top of our blog to view the other features of our website.
If you are not receiving emails to view our website as we travel, but enjoyed reading our blog and would like to receive email notifications to see them in the future, drop us a note at jackanna98@gmail.com. Let us know a little bit about you, including your contact information, and we will start sending future blogs your way.
As always, we hope to see you down the road!