I have long enjoyed wildlife photography and bears have always been at, or near, the top of my subject list. Like most people venturing off to a national park or forest hoping to photograph these beautiful animals, I have long misunderstood their behavior. Several years ago, I had the good fortune to meet Bill Lea, one of the premiere photographers of black bears in the Great Smoky Mountains National Park. Bill's understanding of bears, and his photography reflecting their personalities and behavior left me with a desire to spend time both learning about and photographing black bears.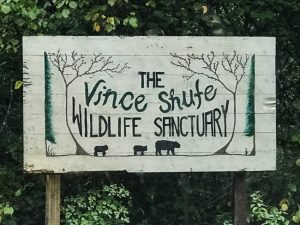 A year of two after I initially met Bill Lea, I learned about the American Bear Association that Bill Lea and another talented photographer, Chris Norcott, helped form to help protect black bears by educating people about bears. Bill and Chris both provide opportunities for a handful of photographers to visit the Vince Shute Wildlife Sanctuary in Orr, Minnesota each year. Last year Chris extended an invitation for me to join him and Bill at the sanctuary this summer. Once I determined that we could work it into our schedule, I jumped at the chance. I am thankful that Anna supported my desire to have this experience. She gracefully took care of our golden retriever, Camper, and held down the fort while I was at the sanctuary. She loves to read, and this gave her some valuable alone time to dive into several books.
The drive to Orr was long. It is literally in the wilderness in the northern lake country of Minnesota. We kept our RV in a campground on Pelican Lake not far from the sanctuary. Our neighbors at the campground (Mary and Ron) were also there to spend time learning about, and photographing, the bears. Mary, who also attended the sanctuary workshop last year, is a very talented photographer from Florida. We had other photographers from as far away as Australia join us.
Mary, Anna, and I drove to the sanctuary the first evening we arrived. The entrance road into the sanctuary was very long and we traveled far into the woods. When we arrived at the end of the road we could see into the clearing known as the magic circle. This magic circle is a safe area for the bears and they travel in and out of the woods to this area on an almost constant basis. We were amazed as we initially viewed the area and immediately observed over 30 bears. Our workshop didn't start for a couple days, and we hadn't yet been trained in behavioral aspects of interacting with the bears so we had to observe the bears from a safety platform. Over the course of the evening we observed some 50-60 bears. It was amazing.
Mary and I carpooled to the workshop each day because there was a limited area in which to park. Our goal was to arrive at sunrise each day and work as long as we had good light, often breaking in the harsh early afternoon light, and then returning until sometime around 5pm. I was surprised to learn that immediately after parking the car we had to place buckets of bear poop near each of the car's wheels to prevent the bears from eating the tires. The bears don't like the smell of their poop – I can't say that I did either. I know this because it was only a matter of time before I was walking in it – everywhere.
These bears are wild, there is no fencing, and the bears are everywhere. We gathered outside the rear of our cars to prepare ourselves and our equipment each day prior to entering the magic circle. The bears would walk by us, some carefully watching our movements. Others seemed to care less, but we knew they were watching. The cars were our safe haven when we needed to eat. We could not carry any type of food item on our body. Bill even told us during the safety training that we shouldn't use cherry flavored chap stick. I still don't know if he was kidding or not!
Although each photographer in our group was on their own during a shoot, we often helped each other – especially by watching each other's backs. Some of these bears are HUGE, with the larger males topping 700 lbs. That said – more often than not it was the juvenile bears that created problems because they are still playful and curious. No matter how big the bears are, they are stealth. Unless an approaching bear started grunting sweet nothings in our ears, we would never know one was walking up behind us. They have huge soft padded feet that make zero noise when they walk. We would often be kneeling or squatting to compose a picture when one of our group would call our name to let us know a bear was behind us. Bears can cover a great distance in a short period of time, so our heads have to be on a constant swivel. Most of the time the bears just wanted to walk on by and we just had to move back and/or to the side. As we walked by the bears or they walked by us we would just talk to them in a calm voice so they knew we were not a threat to them. Usually the conversation was one-sided and went something like, "Hey bear. That sure is a pretty coat you have on today," or "you sure are a pretty young lady (or handsome fellow)!" Unfortunately there are those few times when the bear just wants to play and won't take "no bear" as a behavioral option. This can be testy for a second or two, especially if you are on the human side of the equation. I did have one occasion when backing up and talking nice didn't make any difference. One young bear charged me because I didn't step aside quickly enough. It was a false charge and the bear just wanted me to know he wasn't happy with me blocking his path. I was glad that Bill was nearby on this occasion to let me know I had to move to the side. This was one occasion when it was nice to have the false sense of security of having a tripod between me and the bear.
At the end of the first full day of shooting, I shot over 3500 photos. I definitely had more than my share of computer time just trying to navigate through all of the photos. Over the course of the week, I shot almost 8,000 photos of these hairy boys and girls. Thank goodness I no longer shoot film. The bears did everything from smile to sticking their tongues out at me. The bears are really just like people. They each have a unique personality. Some get along with other bears, some don't. Some like a certain type of food, some don't, and some listen to their parents and others are strong willed. Standing in the magic circle immediately after sunrise was magical. On those occasions when a bear wasn't real close, I could close my eyes and just listen. The bears were constantly talking to each other in the woods. Communication might be between cubs and their mothers, or even fear grunts by bears that were having territorial standoffs.
What a blessing and experience this week was for me. Bill and Chris not only gave me access to a target-rich environment to photograph these beautiful creatures, but did so in a professional well programmed yet relaxed environment. I have a better understanding of how our environmental, legislative, and personal decisions affect the lives of the bears, and I feel more confident in my ability to photograph them in a manner that doesn't threaten them or put me at high risk in the process. I had a great time. Many thanks to Anna, Mary, Bill and Chris for making this week a special and pleasant experience. I hope that each of you reading this blog take time to look over the gallery of photos that reflect what I experienced during my week at the sanctuary.
Click here to view additional photos related to this blog. All photos are best viewed on a computer. You can view the full size photos by clicking on them in the Gallery, and then using the arrow key on your computer to scroll through the remaining pictures. You can also click the links at the top of our blog to view the other features of our website.
If you are not receiving emails to view our website as we travel, but enjoyed reading our blog and would like to receive email notifications to see them in the future, drop us a note at jackanna98@gmail.com. Let us know a little bit about you, including your contact information, and we will start sending future blogs your way.
As always, we hope to see you down the road!