When we closed our last blog we were heading east from Medora, North Dakota, a great little town that everyone should visit. We decided not to travel too far so we planned our next stop in Mandan, North Dakota, just west of Bismarck. We set up camp in Fort Abraham Lincoln State Park just south of the town. The state park was home to the old fort, General Custer's house, and the Slanted Village, once home to the Mandan Indians. The guided tours of the Mandan village and General Custer's house were short, but very interesting. We drove to Bismarck the next day to buy some needed essentials and to have Camper bathed. While shopping for groceries, our car battery that has had some on again and off again moments over the last six months decided that Mandan's sacred grounds would be it's final resting place. A real nice young man and his wife jump started our car and we drove it back to the campground where I was able to temporarily resuscitate the battery. The next morning we gave thanks to the technician at the Interstate Battery shop in Bismarck who had us in and out in fifteen minutes.
While on the road to our next scheduled stop, the International Peace Garden, we stopped at the Lewis and Clark Interpretive Center in Washburn, North Dakota. The center had great displays and a fantastic timeline of Lewis and Clark's backgrounds, the formation of the team for the expedition, and documentation surrounding the hardships and events that occurred during the expedition. The surprise return of the expedition and subsequent events in government and the lives of Lewis and Clark that were a result of the expedition's findings.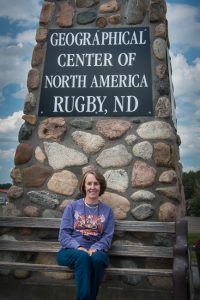 Further along our route we passed through a little crossroads town known as Rugby, North Dakota. Rugby has the distinct privilege of being the geographical center of North America (disputed by some geodetic surveyors). We heard about this distinction and knew there had to be some glorious monument to mark such a notable location. So there we are, at a little intersection with stops in all four directions, and there it is, as glorious as one could possibly imagine – a twenty-one feet tall stone obelisk at the corner of a mexican restaurant parking lot. Not exactly breathtaking!
Our planned destination for this leg of the trip was of course the International Peace Garden, the only botanical garden in North America with such a unique entrance. To enter the garden, you leave the US or Canada but you never cross customs in the other country. You don't need a passport to enter, but you're kind of stuck in a neutral zone between the two countries without one. You can't return to your country, or cross over into the other country, without passport in hand. The IPG is a massive land area with a campground, conservatory, sunken gardens, floral clock, the Peace Chapel, 911 Memorial, bell tower, interpretive center, and the North American Game Warden Museum.
Many of the park's features were interesting. The indoor conservatory of more than one thousand succulents and cacti were unlike any garden display I had ever seen. Sections of the conservatory were dedicated to South American, North American, and African varieties of plants. Unfortunately, much of the plant life was either being re-labeled or not labeled at all. I am not even going to wage a wild guess at what the plants were, so you can just look at the photos and guess. To make things worse, I am definitely not a plant photographer! The photos you will see in the gallery are more documentary than photographic art. Last, but not least, The North American Game Warden Museum was not only a tribute to those men and women who gave their lives to protect our lands and wildlife resources, but also an informational display of animal conservation efforts in both the United States and Canada.
We had a nice time at the International Peace Garden. Our reentry to the United States was the most courteous treatment we have received to date by U.S. customs at any border control point. After we re-entered the United States, we made a one night stop at a KOA in Bimedji, (pronounced Ba-midge-E) Minnesota. We thought this would be a cross-roads, but was actually a good sized town. Bimedji was our last stop on our way to the bears. I am looking forward to sharing the bears with you. I will not only be glad to tell you all about the bears, but also hope to have some great photos to share, all in our next post!
Click here to view additional photos related to this blog. All photos are best viewed on a computer. You can view the full size photos by clicking on them in the Gallery, and then using the arrow key on your computer to scroll through the remaining pictures. You can also click the links at the top of our blog to view the other features of our website.
If you are not receiving emails to view our website as we travel, but enjoyed reading our blog and would like to receive email notifications to see them in the future, drop us a note at jackanna98@gmail.com. Let us know a little bit about you, including your contact information, and we will start sending future blogs your way.
As always, we hope to see you down the road!